Procedures, POCUS,

and More
WFM offers extensive inpatient and outpatient procedural training with the option of additional training in special procedures to gain competence.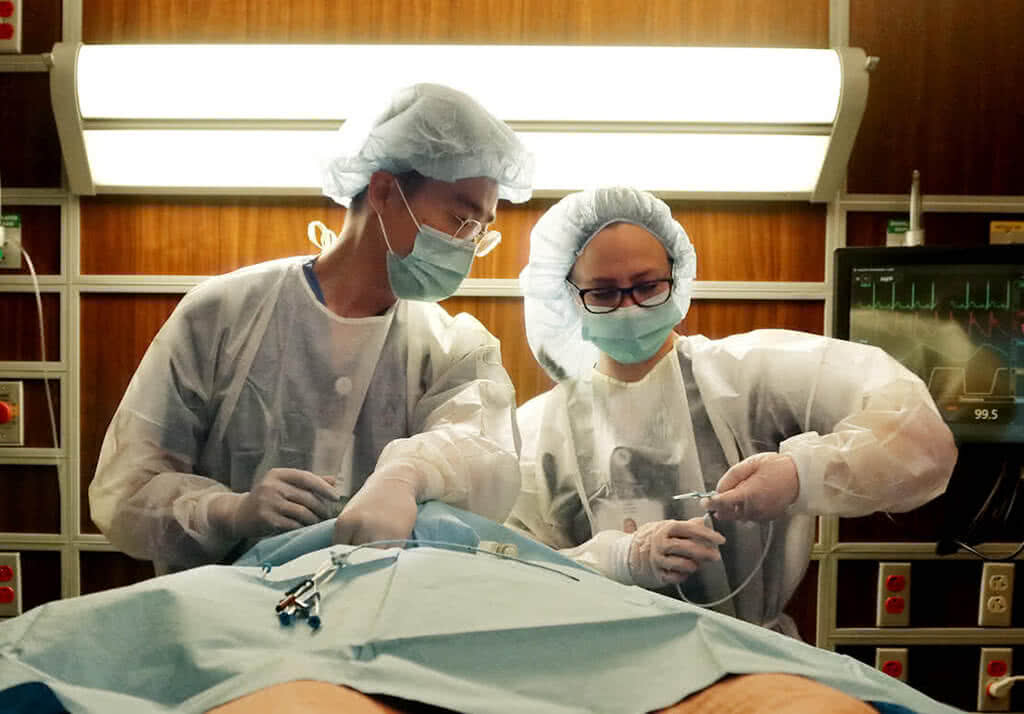 Examples of

Standard Procedures

Include
POCUS (Point of Care Ultrasound)
Our POCUS training begins day one. The three-year, longitudinal experience includes structured preceptorship and technical assessment, self-directed learning activities, and supervised collection of a "POCUS Portfolio" using Butterfly IQ+ portable ultrasounds and six GE LOGIQ e portable ultrasounds.
Inpatient Adult Medicine
central line placement (with ultrasound guidance as indicated)
rapid sequence intubation
ventilator management
lumbar puncture
paracentesis
thoracentesis, chest tube placement
arterial line placement
cardiopulmonary resuscitation
Maternity Care
non-stress tests
OB ultrasound
repair of perineal lacerations/episiotomy
spontaneous vaginal delivery and assisted vaginal delivery
induction and augmentation of labor (using various methods)
external fetal monitoring and internal monitor placement
assisting Cesarean section (primary C-section competency optional)
Residents routinely perform 80 vaginal deliveries as a baseline, with much higher numbers achieved when desired. Optional training in caesarean section competency is available. A high-/low-OB track, offered in the PGY-2 and PGY-3 years, facilitates this training. The program is accredited as OB Fellowship-Equivalent by the American Board of Physician Specialties.
Inpatient Pediatrics
lumbar puncture, neonates and children
endotracheal intubation in newborns
newborn resuscitation
newborn circumcision
MSK
Residents gain extensive experience in musculoskeletal diagnosis and ultrasound-guided diagnosis and injection through dedicated resident MSK clinics led by our family medicine / sports medicine faculty.
Other Outpatient Procedures
Dermatologic: abscess incision and drainage, laceration repair, skin biopsies, lesion removal/destruction, toenail removal, lipoma and cyst removal
Gynecologic: colposcopy, cervical biopsy and endocervical curettage, endometrial biopsy, IUD placement, microscopic diagnosis of vaginal smears, Nexplanon insertion/removal
Outpatient procedures are incorporated longitudinally into resident clinic times, corresponding rotations, and an optional one-month procedures elective rotation.
---
In addition to the above experience, the program's simulation laboratory training includes rapid-sequence intubation, mechanical ventilation, and NRP, PALS, ALSO and ACLS protocols.
Optional Certifications
Colonoscopy: Residents in the colonoscopy module complete 100–200 colonoscopy procedures.
Suboxone waver: Residents can opt-in to suboxone waiver training.